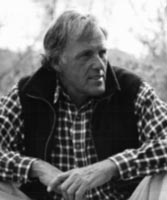 Residing in Santa Fe, plein air landscape painter Peter Hagen is surrounded by the terrain which most inspires him. Motivated by his love of exploration and the challenges presented by changes in light and weather, Hagen captures the atmosphere, space and distance of the New Mexico landscape. Peter Hagen was born in 1944 in the inner city of Flushing, Queens, New York. His father worked in advertising and public relations and his mother raised Hagen and his three sisters. Hagen loved visiting museums as a boy, and decided that when he grew up he would become a painter. When Hagen was 12, his family moved to Stamford, CT. As a child, Hagen would oil paint in his back yard. He took art classes at the Art Gild of Connecticut and earned his Bachelor of Fine Arts degree from the University of Bridgeport, where he majored in graphic design. Then, the generally accepted career path for an art student was to work as an illustrator in New York City, where the fine art scene was dominated by Abstract Expressionism. His father could have used his connections to pave a career path for his son, but the thought of a life in New York City didn't appeal to Hagen. Instead, he started a restaurant with some friends in Connecticut.When Hagen was 28, he and his wife went on a ski trip to Crested Butte, CO and decided to stay there. For sixteen years, Hagen worked as part of a ski patrol, hiked, fished and began dealing in real estate. His love of the land became evident as he showed property, calling attention to trees and views. It was looking at land extensively that led him to landscape painting. In 1988 he moved with his wife to Taos, New Mexico, intending to begin a career as an artist.Hagen was influenced by Monet's color palette and looseness, the strength of Van Gogh's colors, the flowing brush strokes of John Singer Sargent and the loose and colorful style of Joaquin Sorolla. Hagen enjoyed the laid back, artistic community of Taos. He studied under Ray Vinella and Ned Jacob and befriended painters Walt Gonske and Rod Goebel. It only took a year for him to find gallery representation.
After ten years in Taos, Hagen and his wife moved to Santa Fe so that they would have more school choices for their son. As he became more aware of the Santa Fe gallery scene, Hagen began to work even harder at painting. He now lives only a block off of Old Pecos Trail, and finds most of his subject matter within an hour radius of Santa Fe. He works on smaller pieces en plein air and paints larger pieces in the studio not far from his home.
Hagen loves being able to devote his time to the land, saying that he now sells real estate in a different way. Although it can sometimes be a struggle to capture the New Mexico scenery on canvas, Hagen's love for the open land makes the process rewarding. He is always excited to explore and find new subjects to paint. He loves the adventure of both finding new vistas and suddenly seeing familiar surroundings with new eyes.