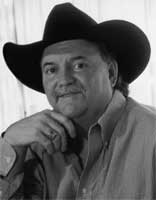 Howard Halbert was born and raised in North Central Texas, and early on developed an interest in portraying the horses, cattle and everyday occurrences of the west, in pencil. Eventually Howard became a partner with his father Shorty in a large ranching operation, which kept him away from his art for many years.
Five years ago Howard picked up a pencil and began to pursue his dream of becoming a professional artist. "I believe my passion and love of horses and the western way of life show in my work. I thank God for this gift which allows me to share with others what I truly enjoy." Halbert credits Texas artist George Hallmark for recognizing his talent and encouraging him to pursue his calling.
Howard currently resides in Cleburne, Texas where he is an active supporter of the Johnson County Children's Advocacy Center, which hosts the annual "COWBOYS FOR KIDS" benefit. Halbert's work can be found in numerous private collections and his originals are represented by McLarry Fine Art, Santa Fe.
PUBLICATIONS
"Howard Halbert's Realist Graphite Works", Cowboys and Indians Magazine, May 2017
"Drawn to the West", Cleburne Times Review, October 2016
EXHIBITIONS
2018
Small Works Great Wonders, National Cowboy & Western Heritage Museum, Oklahoma City, OK
Bosque Art Classic, Bosque Art Museum, Clifton, TX
48th Annual Contemporary Western Art Show, Mountain Oyster Club, Tucson, AZ
2017
America's Horse in Art, AQHA Hall of Fame and Museum, Amarillo, TX
Small Works Great Wonders, National Cowboy & Western Heritage Museum, Oklahoma City, OK
CFD Western Spirit Art Show, CFD Old West Museum, Cheyenne WY
2016
Mountain Oyster Club Art Show, Tucson AZ
Western Ways in Pencil, Pearce Museum, Corsicana, TX
Small Works Great Wonders, National Cowboy & Western Heritage Museum, Oklahoma City, OK
Best of the Best Exhibit, Breckenridge Fine Arts Center, Breckenridge, TX
25th Anniversary Art Show, Breckenridge Fine Arts Center, Breckenridge, TX
Brian Lebel's Old West Show and Auction, Will Rogers Coliseum, Ft. Worth, TX
Painting in the Courtyard, The Howell Gallery, Oklahoma City, OK
2015
Traveling the West Art Show and Sale, SW Gallery, Dallas TX
Mountain Oyster Club Art Show, Tucson, AZ
Cowboy's For Kids, Shepherd's Valley Cowboy Church, Alvarado, TX
Brian Lebel's Old West Show and Auction, Will Rogers Coliseum, Ft. Worth, TX
Bosque Art Classic, Bosque Art Museum, Clifton, TX
24th Anniversary Art Show, Breckenridge Fine Arts Center, Breckenridge, TX
Pencil Point Perceptions, Keller Town Hall, Keller, TX
2014
Bosque Art Classic, Bosque Art Museum, Clifton, TX
Traces of the West Invitational, Union Station, Ogden, UT
A Wish With Wings, Renissance Worthington Hotel, Ft. Worth, TX
17th, Annual Rio Brazos Art Exhibition, Dora Lee Langdon Center, Granbury, TX
2013
Bosque Art Classic, Bosque Art Museum, Clifton, TX
Shades of Gray, Graphite/Charcoal Exhibit, Breckenridge Fine Arts Center, Breckenridge, TX
Breckenridge Fine Arts 22nd Annual Art Show, Breckenridge Fine Arts Center, Breckenridge, TX
2012
GSCC 2012 Winter Gala Art Show, Ardmore Convention Center, Ardmore, OK
Bosque Art Classic, Bosque Art Museum, Clifton, TX
AWARDS
2016 Volunteers Choice Award, Small Works Great Wonders, National Cowboy &Western Heritage Museum, Oklahoma City, OK
2015 Patron's Award, Breckenridge 25th Anniversary Juried Art Show