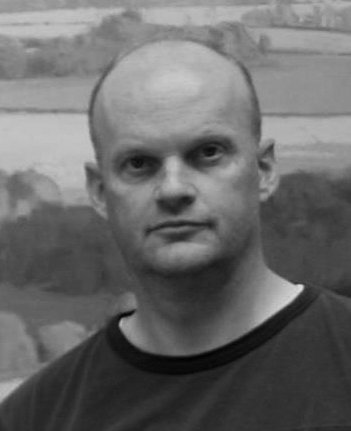 (American, b. 1965)
The spiritual resonance one senses from nature seems universal to most cultures and is a timeless belief.  Aldridge wants the viewer to feel and perhaps re-experience the moments in life when time and place fall away and the spiritual emanations of nature become more palpable. His focus in painting is not so much articulating a specific place, rather, a specific feeling that emanates from that place. His paintings conjure 19th century Romanticism and Tonalism while employing somewhat loose 20th century brushstrokes.
Born in 1965, Aldridge began his artist's training at an early age. He remembers wanting to be a professional artist as early as four years of age. Years of drawing prepared him to attend college level art classes at the University of Arkansas while still in junior high school. He began exhibiting nationally while attending the Bachelor of Fine Arts program at Brigham Young University. He began his professional career in earnest while attending the University of Arkansas's Master of Fine Arts program.
After his formal education, Aldridge moved to Utah where he now lives in a small country town with his wife and five children. When he is not painting, he enjoys spending time with his family, gardening, and renovating the 1884 boarding house he calls home.
His paintings are oil on panel with a subdued palette contrasted with a luminous sky. The frames are mostly designed and hand-crafted by the artist with a specific painting or series of paintings in mind. Most are 18 karat or 22 karat gold leaf. One can visit his studio and often find a frame and painting on the easel, both in progress. He lives and works in Moroni, Utah.
COLLECTIONS
Pinnfund Corporation, California
Fred Jones, Jr. Museum of Art, Permanent Collection
University of Oklahoma
Tyson Foods
Springville Museum of Art, Permanent Collection, Utah
and many private collections
PUBLICATIONS
The Santa Fe New Mexican, Pasatiempo, "Somber journeys with warm horizons," Robert Nott, June 21, 2002.
The Santa Fean, "Openings and Exhibitions," Wolf Schneider, editor, June 2002.
Southwest Art, "Contemporary Utah Artists", Margaret Brown, editor, January 2002
Utah Art, Utah Artists: 150 Year Survey, publisher Gibbs Smith, Authors:
Swanson, Olpin, Poulton, Rogers, 2001
ART-TALK, In the Galleries, Editors, August/September 2001
Southwest Art, "Salt Lake Successes" Norman Kolpas, June 2000
Southwest Art, Best of the West, Margaret Brown, editor, June 2000
Santa Fean, Openings and Exhibitions, Editors, June 2000
Southwest Art, Best of the West, Margaret Brown, editor, July 1999
200 Great Painting Ideas for Artists, North Light Books 1998
The Santa Fe New Mexican, Pasatiempo "Formal Landscape Tradition with
American Eyes" Craig Smith, July 24, 1998
Southwest Art, Best of the West, Margaret Brown, editor, July 1998
Pinnfund Powerline, issue #17, Pinnfund Corp. California, May 1998
Albuquerque Journal North, Albuquerque, NM "Genuine Appreciation for the Unexceptional" Wesley Pulkka, July 30, 1998
The Desert Sun, Palm Desert, Sunday Nov. 22, 1998
The Santa Fe New Mexican, Pasatiempo Santa Fe, NM "For Brad
Aldridge it's metaphysical landscapes" Kathleen McCloud, Aug. 1, 1997
Aspen Magazine, Summer 1996
The Santa Fe New Mexican, Pasatiempo "Brad Aldridge's easy blend of real, romantic" Michael Koster, Santa Fe, NM Dec. 13, 1996
EXHIBITIONS
Invitational Group Exhibition, Small Works, Leslie Levy Fine Arts, Scottsdale, AZ
Two Person Exhibition, Coda Gallery, New York, NY
Invitational Group Exhibition, The Road Show, Leslie Levy Fine Arts, Scottsdale, AZ
Invitational Group Exhibition, The Third Wave, Springville Museum of Art, Springville, UT
Solo Exhibition, Awake … and Remember, Joyce Robins Gallery, Santa Fe, NM
Juried Exhibition, Utah Art-Utah Artists, Springville Museum of Art, Springfield, UT, venue selected by the Winter Cultural Olympiad
Group Exhibition, Miniatures 2002, The Albuquerque Museum
Invitational Group Exhibition, Small Works, Leslie Levy Fine Arts, Scottsdale, AZ
Solo Exhibition, The Simple Order of Things, Joyce Robins Gallery, Santa Fe, NM
Invitational, A Show with Heart, Joyce Robins Gallery, Santa Fe, NM
Juried Exhibition, Annual Spring Salon, Springville Museum of Art, Springfield, UT
A Group Exhibition of Small Works, Joyce Robins Gallery, Santa Fe, NM
Three Person Show, Kneeland Gallery, Sun Valley, ID
Solo Exhibition, Timeless Ground, Joyce Robins Gallery, Santa Fe, NM
A Group Exhibition of Small Works, Joyce Robins Gallery, Santa Fe, NM
Invitational, A Show with Heart, Joyce Robins Gallery, Santa Fe, NM
Juried Exhibition, Annual Spring Salon, Springville Museum of Art, Springfield, UT
Two Person Show, Coda Gallery, Palm Desert, CA
Solo Exhibition, Emanations of Nature, Joyce Robins Gallery, Santa Fe, NM
Invitational, A Show with Heart, Joyce Robins Gallery, Santa Fe, NM ,
A Group Exhibition of Small Works, Joyce Robins Gallery, Santa Fe, NM
Juried Exhibition, Annual Spring Salon, Springville Museum of Art, Springfield, UT
Solo Exhibition, Pathways: Impressions from Europe, Joyce Robins Gallery, Santa Fe, NM
Two Person Show, Coda Gallery, Palm Desert, CA
Small Format show, Martin Harris Gallery, Jackson, WY
A Group Exhibition of Small Works, Joyce Robins Gallery, Santa Fe, NM
Miniature Show, Kneeland Gallery, Sun Valley, ID
7th Annual Plein Air, Kneeland Gallery, Sun Valley, Idaho
Featured Artist, Exhibitions Since '96, Lydon Fine Art, Chicago, IL
Solo Exhibition, Summer's Light, Joyce Robins Gallery, Santa Fe, NM
6th Annual Plein Air Show, Kneeland Gallery, Sun Valley, ID
Solo Exhibition, Iconographic Landscapes, Joyce Robins Gallery, Santa Fe, NM
State of the Arts, Utah Centennial Invitational, Utah, Wash. DC
72nd Annual Spring Salon, Award of Merit, Springville, Utah
71st Annual Spring Salon, Springville Museum of Art, Springville, UT
Living the Gospel in the World Church, 3rd International, Salt Lake City, UT
70th Annual Spring Salon, Springville Museum of Art, Springville, UT
Solo Exhibition, Iconographic Landscape, Designer's Gallery, Fayetteville, Arkansas
Featured Artist, Taylor's Contemporanea Fine Arts, Hot Springs National Park, Arkansas
Charlotte International Exhibition, Charlotte, North Carolina
69th Annual Spring Salon, Springville Museum of Art, Springville, UT
Intimate Views, Salt Lake Art Center, Salt Lake City, UT
Contemporary Realism V, Leslie Levy Fine Arts, Scottsdale, AZ
15th Arkansas Exhibit, Hot Springs, Arkansas
Contemporary Landscape, Brad Aldridge & Teresa Falley, Designer's Gallery, Fayetteville, Arkansas
65th Annual April Salon, Springville Museum of Art, Springville, UT
Mountain West Biennial Paper Works Regional Competition, Logan, UT
Western States Print Competition, Ogden, UT
9th Annual Paper in Particular National, Columbia, MO
AWARDS
2000 Award of Merit, Springville Museum of Art, UT
1994 Award of Merit, 72nd Annual Spring Salon, Springville Museum of Art, UT
1994 Best of Show 1st Place, 70th Annual Spring Salon, Springville, UT
Juror's Choice Award, 65th Annual April Salon, Springville Museum of Art, UT
1998 Juror's Choice Award, Harris Fine Arts Center Annual Juried
Exhibition, Provo, Utah. Theodore Wolff, Juror (Art Critic, Christian Science Monitor)
J. Roman Andrus Annual Printmaking Will Ward Cash Award