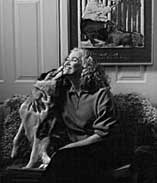 Donna Howell-Sickles (b.1949) first started painting cowgirls in 1972, after seeing an old postcard from the 1930s bearing the image of a rodeo cowgirl. She was earning her BFA at Texas Tech in Lubbock at the time. Fascinated by the woman on the postcard, Howell-Sickles began to research the history and imagery of the cowgirl.
While the energy of Howell-Sickles' cowgirls seems to jump off the canvas, the symbolism in her paintings is not always obvious. Howell-Sickles uses folklore and classical mythology to bestow deeper meaning to the scenes she paints. By alluding to ancient myths and how women have been portrayed through legend, Howell-Sickles creates an archaic heroine, one that is relatable for modern women as well.
Howell-Sickles focuses on the joyous aspect of life in her works, and the cowgirls in her paintings are confident, happy and vivacious. Many of the symbols in her works recall ancient times when women were revered as the source of life. Triangles, six-petaled flowers, bears, and apples are all feminine symbols that add to Howell-Sickles' imagery. The cowgirls sometimes even rewrite myth, as is the case in a painting of Europa and the bull, in which Europa grabs the bull by the horns and steers him around.
Howell-Sickles herself identifies with the self-reliant and hard-working spirit of the cowgirl. In 2007 she was inducted into the Cowgirl Hall of Fame by the National Cowgirl Museum and Hall of Fame in Fort Worth, Texas. Howell-Sickles' work is a part of the Buffalo Bill Center of the West, the Booth Western Art Museum, the Tucson Museum of Fine Art, Western Spirit: Scottsdale's Museum of the West, the C.M. Russell Museum and the National Museum of Wildlife Art.