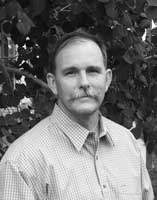 (b. 1967)
Both an artist and art educator, J. G. Moore has been working professionally in bronze for the last 18 years. After receiving his undergraduate degree in visual arts education, Moore went on to earn his M.Ed. in art education from Lesley University in Cambridge, Massachusetts. His award winning work is in private and public collections across the United States and Europe. Moore lives with his wife and two daughters in Galeton, Colorado where he sculpts full-time.
Moore was selected to be the featured artist for the Vail, Colorado Art in Public Places art installation at the Ford Amphitheater, showcasing 5 of his unique wildlife garden bells. He also was selected by the Gillette, Wyoming Mayor's Art Council to install two of his monumental garden bells in the 2008 Avenues of Art display.
Moore has several commission pieces in his portfolio for individuals, businesses and municipalities as well as awards such as Best of Show at the 2008 Hill City, SD Sculpture in the Hills Art Show and Sale, Best of Show University of Northern Colorado Juried Student Show, 1992; Honorable Mention, Greeley National Juried art show, 1992.
A long time participant in the Loveland Sculpture Invitational, Moore has also participated in the Richard Schmid RCVFD juried art show as well as the CM Russell Museum Art Show and Auction.
"Having a desire to create things of lasting beauty and that bring glory to the creator of all things, I have produced these bronzes. I hope they bring you pleasure and joy. My work blends a love of nature and a love for people and cultures around the world. I also enjoy making work that appeals to the utility of craft yet is fine in its form."