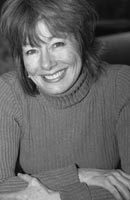 Lael Weyenberg is a contemporary impressionist painter who paints intimate portraits of her environment. Her intent is to capture gesture, mood or feeling through the use of color in a direct painting approach. Lael paints primarily small works alla prima. Her favorite subjects include still lifes of arranged flowers or shoes and scenes of people performing everyday tasks, such as cooking, running, sitting at cafés or interacting with others. Lael views these candid scenes that she captures as a chronicle of modern times. Always an observer, she finds subjects for her work on the streets of Santa Fe, Brooklyn, San Francisco or wherever she travels.
Weyenberg is a native of British Colombia who grew up in Washington State. As a child she loved to draw and was influenced by her mother's love of flowers. Always looking for ways of expressing her creative talents, she began painting flowers on straw hats in her twenties. These hats were soon discovered by a sales representative, and before long they were being sold in Nordstroms. Ready to move on to other art forms, Weyenberg took an oil painting class from acclaimed artist Cheri Christensen. It was then that she fell in love with painting the scenes around her.
Weyenberg is an International Artist Magazine Flower and Gardens competition first prize winner and has been a featured artist in Southwest Art Magazine, American Art Collector and Focus Santa Fe.