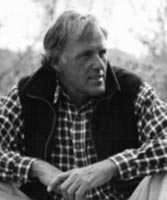 Residing in Santa Fe, New Mexico, landscape painter Peter Hagen is surrounded by the terrain which most inspires him. Motivated by his love of exploration and the challenges presented by changes in light and weather, Hagen captures the atmosphere, space and distance of the New Mexico landscape. Peter Hagen was born in 1944 in New York. His father worked in advertising and public relations at BBD&O and his mother raised Hagen and his three sisters. Hagen loved visiting museums as a boy, and knew early on that he would become a painter. Later Hagen's family moved to Connecticut, where he started to paint and draw. He took art classes at the Silvermine Art Guild of Connecticut and attended the University of Bridgeport, where he majored in graphic design. New York City didn't appeal to Hagen where the art scene dealt more with abstract art. Hagen moved West. For fifteen years, in Colorado, Hagen worked on ski patrol, hiked, fished and worked in real estate.
His love of the land became evident. It was looking at land extensively that led him  back to painting. In 1988 he moved with his wife and son to Taos, New Mexico to renew his passion and begin a career as an artist. Hagen was influenced by Monet's color palette and looseness, the strength of Van Gogh's colors, the flowing brush strokes of John Singer Sargent and the loose and colorful style of Joaquin Sorolla. Hagen enjoyed the artistic community of Taos and eventually obtained gallery representation.
After ten years in Taos, Hagen and family moved to Santa Fe. He finds most of his subject matter within an hour radius of Santa Fe. With an occasional trip to Colorado, California and Utah he looks for that inspiration, that open land, the elements, the silence, emotion, and the beauty.
Hagen's love for the open land makes painting rewarding. He is always excited to explore and find new subjects to paint. He loves the adventure of both finding new vistas and suddenly seeing familiar surroundings with new eyes.
Hagen's work has been featured in "Southwest Art" and "Art of the West" Magazine. He was featured in the book "Landscapes of New Mexico". He has exhibited in group shows at the Albuquerque Museum and the C.M. Russell Museum in Great Falls, Montana.
EDUCATION
Silvermine Art Guild of Connecticut
University of Bridgeport
PUBLICATIONS
Southwest Art
Art of the West
Landscapes of New Mexico, Fresco Books
EXHIBITIONS
Albuquerque Museum of Art, Albuquerque, NM
C.M. Russell Museum, Great Falls, MT
Several Solo Exhibitions at McLarry Fine Art, Santa fe, NM